…..where I was visiting my son and daughter-in-law. I used a basic Swiss shortbread recipe and added ground almonds and lemon rind. I have to say they almost came out identical if not better!
INGREDIENTS
1/2 cup soft butter (half coconut oil or olive oil OK)
1 cup powdered sugar
1 egg
pinch of salt
grated rind of one untreated lemon
2 cups pastry or all purpose flour
1/2 tsp baking powder
2/3 cup almond flour*
2-3 tbsp roughly chopped almonds (for topping)
*hazelnut flour and chopped hazelnuts are another variation
PROCEDURE
1. Beat the butter and powdered sugar until well blended.
2 Beat in the egg, lemon rind and salt until mixture is light and fluffy.
3. Whisk together flour and salt and mix into the above mixture.
4. Mix in the almond flour. (add a tbsp or two of cream if mixture is too dry).
5. Pat dough (sprinkle with a little flour) into a disk and roll out not too thin.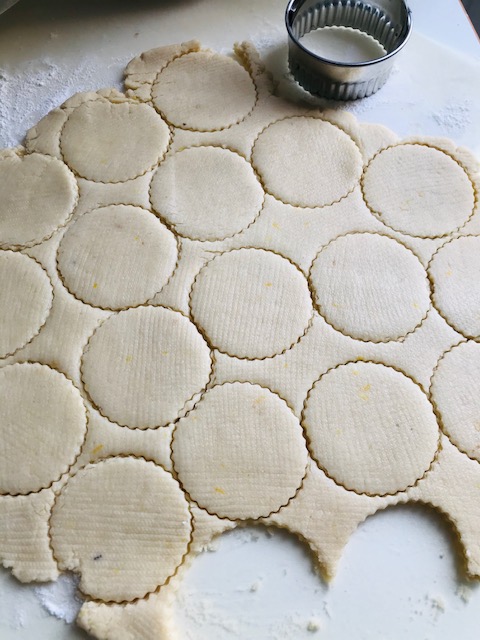 6. Cut out rounds with a round cookie cutter.
7. Place them on a parchment paper lined baking sheet (or non-stick).
8. Press chopped almonds onto the tops of the cookies.
9. Bake cookies at 350degF (180deg C) for 12-14 minutes until lightly browned. Remove them to a cooling rack and store them in a tightly covered container.