INGREDIENTS
1/4 cup aquafaba
pinch of cream of tartar (optional)
1/2 cup sifted powdered sugar
1 and 1/2 tbsp. cornstarch
1 cup coconut flour (grated coconut)
1/2 tsp. vanilla
1 small bar of dark chocolate
PROCEDURE
1. Beat the aquafaba (with a pinch of cream of tartar) until stiff peaks form (5 minutes).
2. Sift the powdered sugar with the cornstarch. Gradually fold into the aquafaba.
3. Mix in the vanilla. Fold in the coconut flour.
4. Trop teaspoonfuls of the mixture on a lightly greased wax paper lined cookie sheet.
5. Bake in a preheated 350deg F (170deg C) oven for 10-15 minutes or until barely golden.
6. Remove macaroons from oven and while hot place a small piece of chocolate on top.
7. When chocolate is melted, let the macaroons cool before serving.

Beat aquafaba with cream of tartar.

Fold in the coconut flour.

Macaroons ready for the oven.

Baked macaroons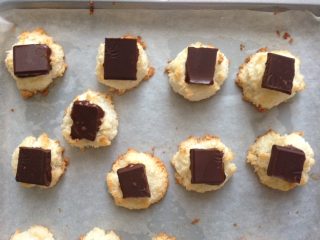 Place chocolate pieces on the hot macaroons.