INGREDIENTI
200 gr. di gamberetti surgelati (e scongelati in frigorifero)
100 gr. di fettine di salmone affumicato
5 dl di brodo chiaro di pesce
1 dado di gelatina chiara
2 cucchiai di succo di limone
1/2 avocado tagliato a piccoli cubetti
alcune foglie di lattughino colorato
10 fiori di viola del pensiero o altri fiori commestibili
PER LA SALSETTA
2-3 mandaranci
guar gum (adensante di alghe a freddo)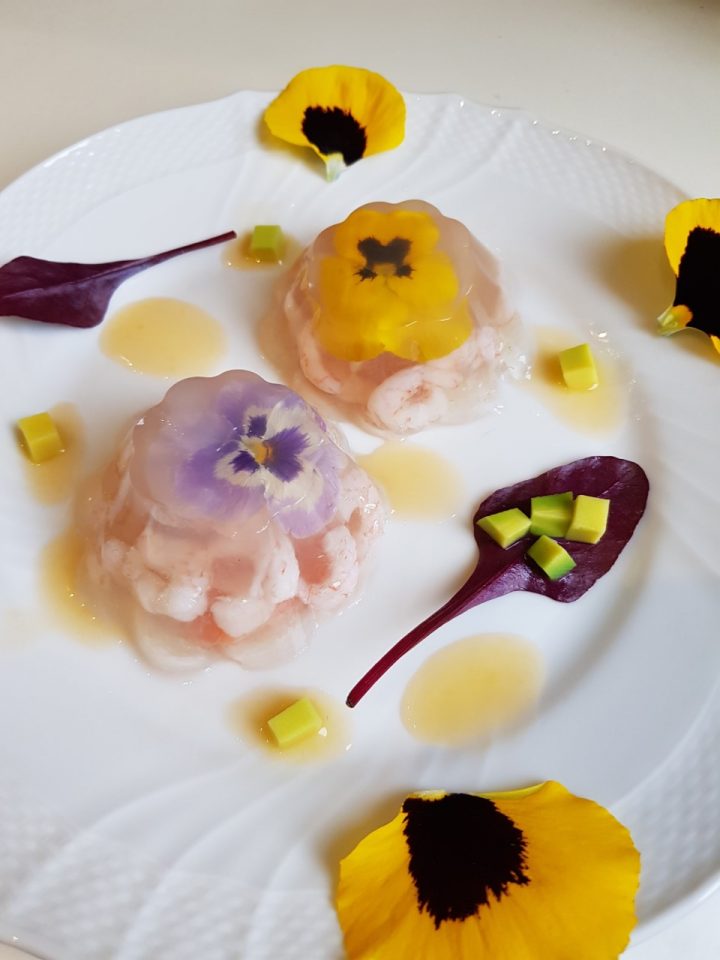 PROCEDURA
1. Sciogliere il dado di gelatina nel brodo caldo. Aggiungere succo di limone.
2. Versare uno strato sottile di gelatina fredda negli stampini.
3. Appoggiare un fiore ed aggiungere un cucchiaino di gelatina sopra. Mettere in frigo.
4. Quando la gelatina sara' rassodata suddividete i gamberetti dentro i stampini.
5. Riempite i stampini con il restante gelatina e mettete una fettina di salmone sopra.
6. Dopo almeno 6-8 ore o quando la gelatina sara' rassodata si possono sformare gli aspic.
7. Immergete il fondo degli stampini nel acqua calda per un istante, coprite con un piatto e rovesciate. Decorate con cubetti di avocado e petali di fiori a piacere.
Per la salsetta: Addensare il succo dei mandaranci a freddo con un mezzo cucchiaino di guar gum (setacciato sopra). Mescolare bene e versare sopra  o intorno agli aspic.

Viola del Pensiero – Pansy o Heartsease in Inglese
I'm the little Heartsease
I don't care for pouting skies!
If the butterfly delay
Can I, therefore, stay away?
-Emily Dickinson (1860)