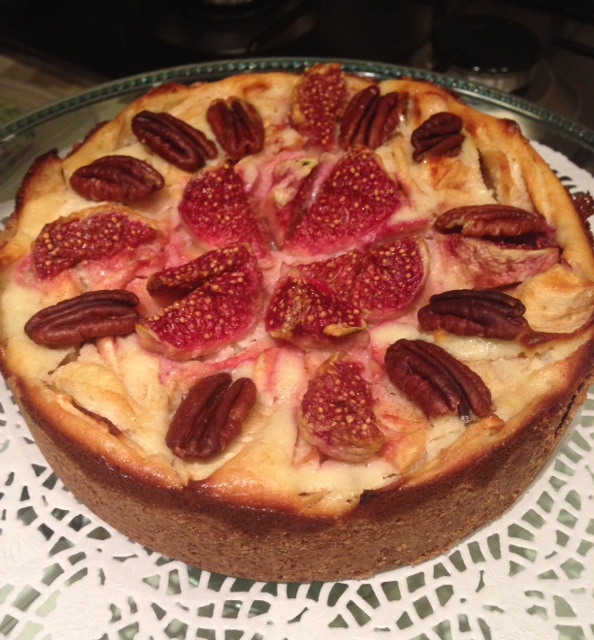 INGREDIENTS
for the crust:
1/2 cup of soft butter
1/4 cup coconut sugar (or 1/3 cup brown or regular sugar)
3/4 cup all purpose flour
1/4 cup rye (or buckwheat) flour
for the filling:
2/3 cup robiola or cream cheese
1/4 cup sugar
1 egg
1/2 tsp. vanilla extract
2 large or three small apples (peeled and sliced)
2 or 3 figs
1/4 cup coconut (or brown) sugar
1/2 tsp. powdered cinnamon
1/3 cup pecans or walnuts
PROCEDURE
1. For the crust: Cream the butter and 1/4 cup sugar.
2. Add the flours and mix well.
3. Press the dough into the bottom and partially up the sides of an 8″ wax paper lined springform pan. Set aside.
4. Make the filling by combining the cheese, sugar, egg and vanilla until smooth.
5. Spread the filling mixture evenly over the prepared crust.
6. For the topping mix the sliced apples with 1/4 cup sugar and cinnamon.
7. Spoon the apple mixture over the filling. Top with sliced figs and pecans.
8. Bakein a preheated 400degF (190degC) oven for 10 minutes. Then reduce to 375deg F (170deg C) for another 20 to 25 minutes. Cool well before removing from pan.

Assembled cheesecake ready for the oven