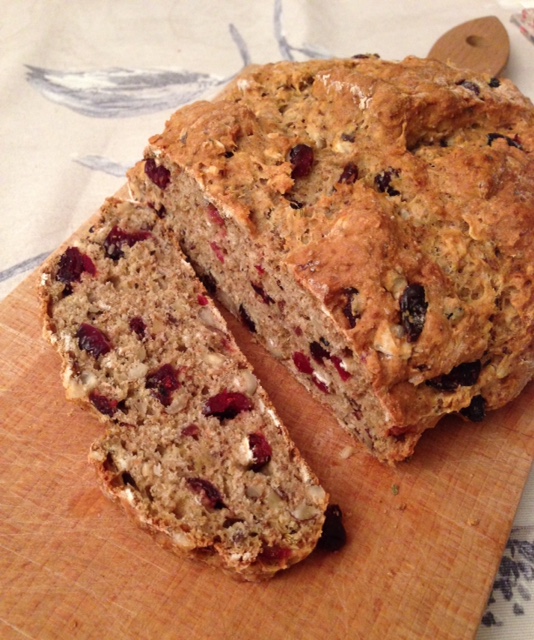 INGREDIENTS
1 and 1/2 cups semi-wholewheat flour
1/2 cup cranberries
1/4 cup red wine or rum
1/2 cup oatmeal flakes or granola (with oatmeal base)
1/2 tsp. baking soda
1/2 tsp. baking powder
3/4 tsp. salt
2 tsp. fennel seeds (optional)
1 cup buttermilk or kefir
1 tbsp. olive oil
1 egg or (3 tbsp. aqua faba)
2/3 cups chopped hazelnuts
PROCEDURE
1. Soak cranberries in the wine or rum. Set aside
2. Mix together the dry ingredients in a large bowl. Whisk together.
3. Beat together the wet ingredients.
4. Add the wet ingredients to the dry, mix until combined without over mixing.
5. Drain the cranberries and flour them lightly. Incorporate them into the prepared dough (using hands helps).
6. Remove the dough from the bowl and shape it into an oval loaf on a floured surface. Slit top as shown.
7. Place loaf on a lightly oiled baking sheet and bake in a preheated 350deg F (170deg C) oven for 45-50 min.
8. When loaf is golden and sounds hollow when tapped on the bottom, remove to a cooling rack. Cool and slice.

Ready to go into the oven

Freshly baked loaf