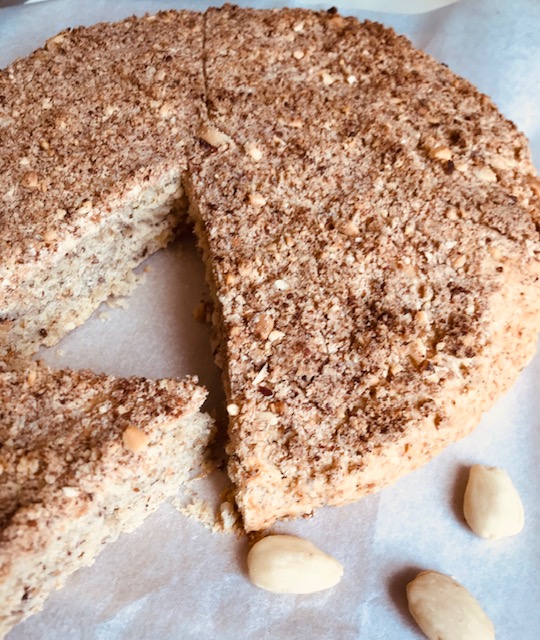 Super Crunchy Almond Scones contain lots of important nutrients.
INGREDIENTS
2 cups all-purpose flour (half whole wheat good)
1/2 cup toasted almonds – chopped
1/4 cup sugar (coconut sugar good)
2 tsp baking powder
1/2 tsp baking soda
1/4 tsp salt
1/2 cup firm butter
1 slightly beaten egg
1/2 cup greek style yogurt
optional 1 tbsp apple cider vinegar
Crunchy Almond Topping
3 tbsp flour (wholewheat good)
2 tbsp sugar (coconut or brown sugar good)
2 tbsp chopped almonds – toasted
2 tbsp cold butter
optional 1/2 tsp cinnamon
PROCEDURE 
1. Preheat oven to 375deg F (180deg C)
2. Prepare topping by mixing the flour, sugar and almonds.
3. Cut in the butter to form a crumbly mixture. Set aside.
4. For the scones whisk together the flour, sugar, baking powders and salt.
5. Cut in small chunks of butter to form a crumbly mixture. Stir in the almonds.
6. Beat together the egg and yogurt (and vinegar). Stir into the above dry mixture until the dough comes together in a soft ball. (Don't over mix)
7. Turn out dough to a lightly floured surface. Knead lightly 7 or 8 times.
8. Flatten dough onto a wax paper lined cookie sheet (or roll out) to a 9″ disk (22cm).
9. Sprinkle and lightly press on the topping. Cut into 8 wedges without separating them. Bake about 15-18 minutes until golden. Remove to a cooling rack (without the wax paper) and separate the wedges when warm.