The recipe for this version of my "Colomba" is basically the same as the "Easy Italian Colomba" (See recipe on my blog). There are only a few tweaks that I'll explain here:
SHAPING
Before the last rising, punch down the dough and divide it in half (one half for the wings, slightly smaller). Form the larger half for the body into a sausage shape that fits into the paper liner (or on a wax paper lined pan if you don't have the liner).  Next divide the smaller portion in two and form two wings that you attach to the sides of the body. Brush the top of the Colomba with the following glaze:

GLAZE
Melt in a small pan 2 tbsp. butter together with with 3 tbsp. honey and a few grains of salt. Cool slightly. Brush the Colomba with this mixture before baking. Top with a few almonds.  After the first half hour if the Colomba browns too much (the honey tends to do this) cover it with a piece of aluminum foil. Towards the end of the baking time, place the Colomba on the bottom of the oven for a few minutes (5-10 min.) to complete browning of the bottom side.
TIP To add more aroma to the Colomba I ground a few candied orange peels together with a little light brown sugar and added a pich of nutmeg and grated lemon peel. This can be mixed in with the liquid mixture before adding the flour.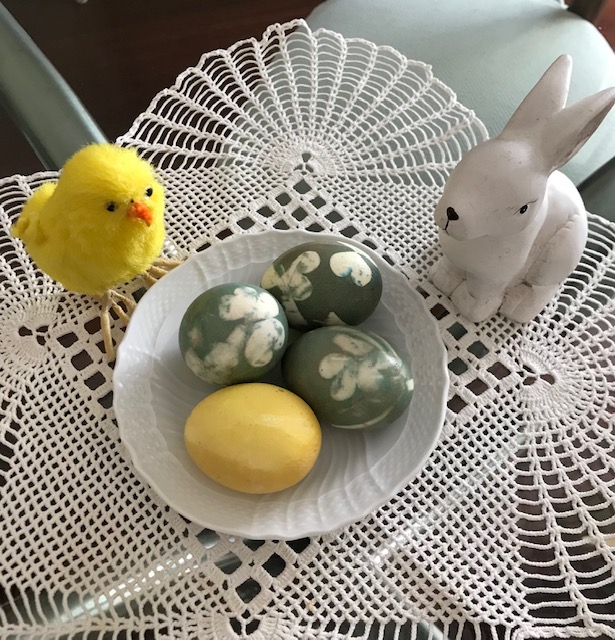 Naturally dyed eggs with vegetable colors and cloverleaf and flower prints