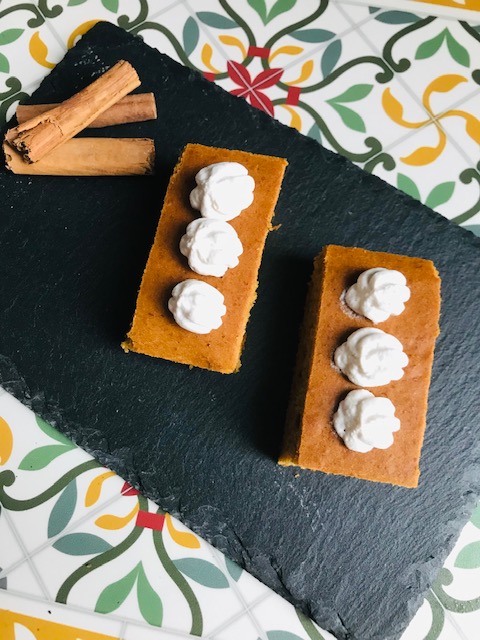 INGREDIENTS
2 cups all-purpose flour
1 cup coconut sugar (or regular ok)*
3 tsp. baking powder
1/2 tsp. baking soda
1/2 tsp. salt
1/2 cup very soft butter (half coconut or olive oil ok)
1 cup pureed pumpkin (or squash pulp good)
1 tsp. vanilla
1/2 (up to 1) tsp. cinnamon
1/2 tsp. ground ginger
a dash of nutmeg
3 eggs (room temperature)
1 tsp. apple cider vinegar (optional)
*for a sweeter bar add up to 1/4 or 1/3 cup more sugar
PROCEDURE
Place all dry ingredients in a large bowl and whisk together. Then add the pumpkin puree', butter and eggs. Beat with a mixer at low speed, scraping bowl constantly for about 30 seconds. Continue beating now at high speed for 2 or 3 minutes (scraping dry bits into batter frequently). Pour batter into a greased, parchment paper lined standard rectangular baking pan. Bake for 35-40 minutes in a preheated 350deg F (180deg C) oven. Cool in pan before removing parchment paper. Cut into regular squares or rectangles. Top with the following cream topping if desired:
Whipped Cream – Yogurt topping
Beat 1 cup whipping cream adding gradually 1/4 cup powdered sugar and 1 tsp. cinnamon. Fold into 1/2 cup plain greek yogurt. Place dollops of this topping on your bars or pipe it over the bars with a pastry bag.