INGREDIENTS
1 – 9 inch sponge cake layer (see recipe below)
orange syrup (1 tbsp. sugar mixed with 1/4 cup water, 2 tbsp. orange liquor and grated rind of an orange)
Filling:
1 cup creamy type ricotta
1/3 cup cream, whipped
1/2 cup powdered sugar
1/2 tsp. vanilla extract
1/3 cup small chocolate chips
1/4 cup finely chopped candied orange peel
Sponge cake:
2 eggs separated
1 cup pastry flour (or 3/4 cup all purpose + 1/4 cup cornstarch sifted together)
1 and 1/4 tsp baking powder
pinch of salt
3/4 cup sugar
1/4 cup hot water
1/2 tsp. vanilla
Icing:
1 and 1/2 cups powdered sugar
1 tbsp. fresh lemon juice
1 tbsp. water
Optional:Finely ground pistachio nuts for the outer sides of the cake.
Decoration: red candied cherries, candied orange peel, green candied pumpkin or other candied fruit as desired
PREPARATION
1.To make the sponge cake start by beating the whites until they stand up in soft peaks.
2. Beat in gradually 1/4 cup of the sugar. Set aside.
3. Add the hot water (not boiling) and vanilla to the yolks and beat until foamy. Continue beating until thick while gradually adding the remaining 1/2 cup sugar.
4. Fold the yolk mixture carefully into the whites until well blended.
5. Fold in the flour sifted together with the baking powder and salt into the above. Avoid over mixing.
6. Spoon into a small wax paper lined (bottom) and buttered cake pan. If there is too much batter use the excess to make cupcakes.
7. Bake in a 180deg C (370deg F) preheated oven for 25 minutes or until golden and cake tests done with a toothpick.
8. Cool cake slightly before turning it out to a cooling rack. Peel away wax paper and cool completely.
9. When cake is cooled completely cut it in half to form two disks. Brush or sprinkle each disk on the inside with the orange syrup to moisten the cake. In the meantime prepare the filling as follows:
1. Beat the ricotta with the sugar and vanilla until fluffy.
2. Fold in the whipped cream, chocolate chips and chopped candied orange rind until well combined.
3. Spread the filling onto the bottom sponge cake layer. Place the other layer on top.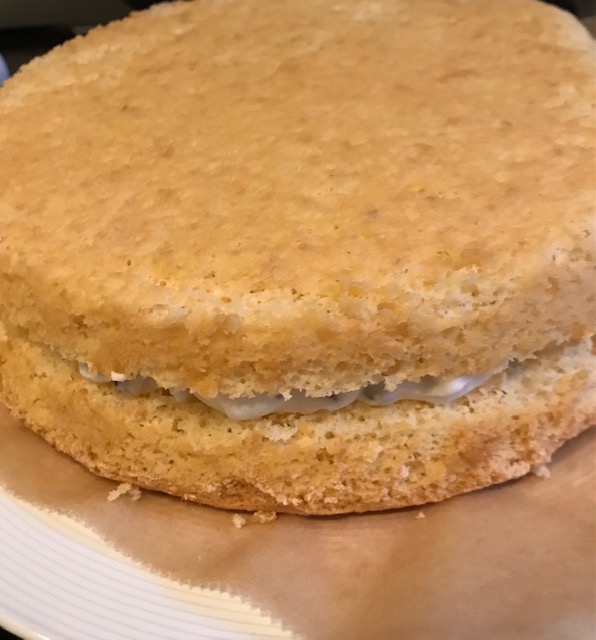 4. Mix the icing ingredients together adding more water if necessary drop by drop to a spreading consistency.
5. Spread the icing first around the sides (pressing in the chopped nuts if desired) and then on top.
6. Decorate with candied fruit. Chill well in the fridge for a couple of hours or overnight.