Continued…The Mimosa cake was actually created by a pastry chef who won a competition in San Remo in 1962 – and as a result this cake has become a symbol of this lovely Ligurian riviera town.
INGREDIENTS for sponge cake
5 eggs separated (+ one extra yolk for more color if desired)
1 tbsp. lemon juice
1 cup sugar (I used light brown powdered)
pinch of salt
3/4 cup all purpose flour plus 1/4 cup cornstarch sifted together
grated rind of one lemon or orange (or combination)
INGREDIENTS for pastry cream
2 cups (500 gr.) full fat milk
3 egg yolks
1/3 cup (about 60 gr.) sugar
2 rounded tbsp. flour (or a mix of flour and cornstarch) sifted
1/4 tsp. vanilla extract
grated rind of one lemon
for Chantilly Cream fold in 1/2 cup cream whipped (not too stiffly) to the finished pastry cream if desired.
For the orange soaking syrup (bagna) boil together 5 tbsp. (70 ml) fresh orange juice, the grated rind and 3 1/2 tbsp. (50 ml) water for 5 minutes. Cool.
PROCEDURE
1. To prepare the sponge cake separate the eggs and first beat egg whites and a pinch of salt to soft peaks. Beat in 1/4 cup of the sugar. Set aside.
2. Next beat the yolks with the remaining sugar and the lemon juice until fluffy and lemon colored.
3. Pour this egg yolk mixture gradually over the beaten egg whites with a large spoon in a slow over under movement until the mixtures are well combined.
4. Next fold in the flour sifted with the salt a spoonful at a time until batter is well blended.
5. Pour the batter into two small (8″ or 20cm.) buttered and wax paper lined cake pans. (don't grease the sides). Smooth over the tops.
6. Bake in a 325deg F (170deg C) preheated oven for 30-35 minutes until golden and cake springs back when gently pressed with a finger.
7. Gently invert pans on a wire rack and cool completely before removing them. (run a knife around the edges to release cake).
To prepare the pastry cream (and chantilly cream):
1. Bring milk to a boil. Remove from heat and set aside (add vanilla bean if using).
2. Beat the egg yolks, sugar and grated rind until fluffy. Gradually mix in the flour.
3. Pour the tepid milk (minus the vanilla bean – if using) gradually into yolk mixture (in a small saucepan) while mixing until well incorporated and smooth.
4. Place saucepan over medium heat and cook until mixture thickens while constantly stirring.
5. Mix in vanilla extract (if using). Cover with cling film and let cool completely. Refrigerate. Prepare the orange syrup and let that cool too.
6. Whip the cream to a soft consistency. Gently beat it into the cold pastry cream to form the chantilly cream. Keep refrigerated until ready to assemble cake.
TO ASSEMBLE CAKE:
1. Slice one small cake (I made a square one) into thin slices. Then cut crosswise to form small cubes. Set aside.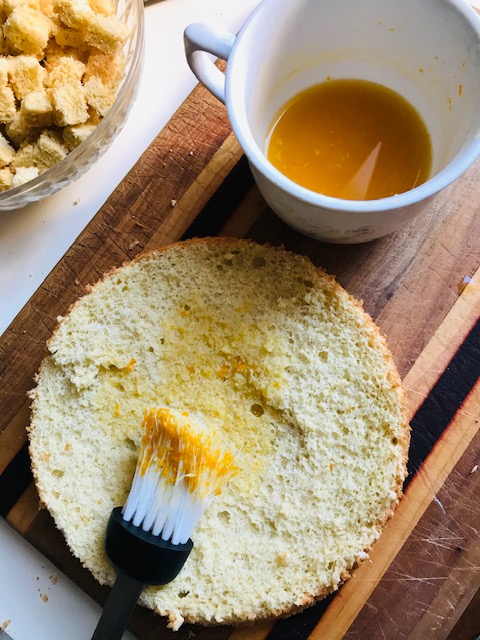 Brush the cake with the orange soaking syrup.
2. Take the other round cake and slice it in half crosswise. Remove top.
3. Brush the bottom half of the cake with the orange soaking syrup. Cover with about 1/3 of the chantilly cream. Replace the top.
4. Brush top of cake with the orange soaking syrup. Cover top and sides of cake with the rest of the chantilly cream.. Press the cake cubes on top and around sides of cake. Decorate with a strawberry if desired. Chill thoroughly before serving.