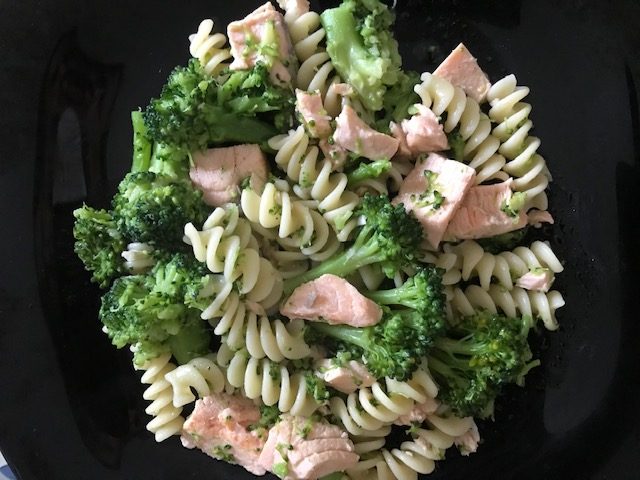 INGREDIENTS (for two generous servings)
Small head of fresh broccoli broken apart into small florets
1 thick slice of salmon (10 oz. or 300 gr.), cubed. Frozen OK too
160 gr. (5 oz.) pasta -(cooking time around 9 minutes)
condiment
1/4 cup good extra vergin olive oil
1 T butter
1-2 tsp anchovy paste
1 crushed garlic clove
procedure Sauté all the condiment ingredients briefly (remove garlic).
1. Bring salted water to a boil and add the pasta.
2. When pasta comes to a boil throw in the broccoli.
3. When the pasta/broccoli come to a boil throw in the salmon.
4. When everything comes to a boil subtract two minutes from the original cooking time of the pasta.
If the package says 9 minutes continue boiling for 7. Check for doneness before draining.
5. Carefully drain everything through a colander. Gently mix in condiment and serve.
NOTE The original cooking time for the pasta should be around 9 minutes in order to thoroughly cook the broccoli and salmon.