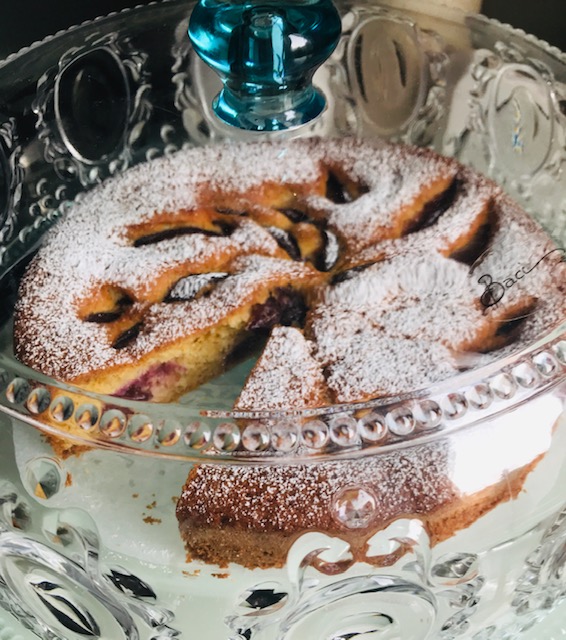 (continued) supermarkets feature foods from the nearby area and are all practically organic. Small villages that are scattered throughout have farmer's stands that sell their own fruits, vegetables and cheese. In one of these villages near Lake Geneva and not far from Lausanne I heard there was a locally renown flour mill run by the "Grain Whisperer"
Cedric Chezeaux who cultivates old and almost forgotten grains that he mills himself at the "Ferme Arc-en-Ciel" (The Rainbow Farm). Well, being nearby I couldn't miss the opportunity to visit this mill. In the tiny village of Juriens it wasn't hard to find his little shop and store-room with shelves filled with all sorts of flours. Mr. Cedric wasn't there himself but his wife greeted us barely before the shop closed and explained in French the various qualities of their freshly milled flours (luckily my son and daughter who speak French translated for me). Well, I came away with several bags of flours specific for every baking need. That's where the pastry flour for this Plum Cake came from. Of course you can use any all purpose flour in this recipe but I like to think that the "Grain Whisperer's" flour gave it a special touch!
INGREDIENTS
10-12 medium purple plums pitted and cut into fourths
1 – 3/4 cups (200 gr.) all purpose flour (I used ble' bise clair flour from the Arc-en-Ciel mill)
1/2 cup powdered sugar
3 large eggs
1/2 cup (230 gr.) room temp. butter (I used half coconut oil)
2 1/2 tsp. baking powder
1/2 tsp. baking soda
1/4 cup plain yogurt any type
Topping – powdered sugar

PROCEDURE
1. Beat the butter and sugar until creamy.
2. Beat in the eggs one at a time.
3. Sift the flour with the baking powder and soda.
4. Gently stir in the flour mixture.
5. Pour the batter into a greased and floured springform pan. Level top and arrange the plum slices on top.
6. Bake the cake in a preheated 180deg C (370deg F) oven for 45 minutes or until golden and a toothpick inserted in the middle comes out clean. Cool the pan on a cooling rack before removing cake. Sprinkle with powdered sugar when cool.

The pastry flour I used from the "Grain whisperer's" mill in Switzerland