INGREDIENTS
4 and 1/2 cups (500 gr.) strong flour (or a mix of whole wheat, spelt and barley flour)
1 and 3/4 cups (350 ml) room temp. skim milk (here I used 100 ml milk, 100 ml water and 150 ml almond milk)
1 packet dried sour dough starter for 500 gr. flour (or 1 cup liquid sour dough starter, or 12 gr. fresh yeast or 7 gr. granulated yeast)
2 tbsp. honey
1 tsp. salt
2 tbsp. (50 ml). olive oil
OPTIONAL: mozzarella pieces
topping: cherry tomatoes cut in half, herbs such as rosemary, thyme, oregano
PROCEDURE
1. Place the flour (sifted better) into your mixer with dough hook. Mix in the dry yeast if using.
2. Mix the milk with honey and fresh yeast or starter (if using).
3. Pour the liquid mixture into a well in the center of the flour and mix on the lowest setting.
4. Add the salt and continue mixing with the next setting.
5. Add the oil and continue kneading on the 3rd speed for about 5-10 minutes until the dough forms a ball that doesn't stick to the sides of the bowl.
6. Flour the top lightly and remove to a clean surface and knead with a folding motion for a couple of minutes.
7. Place ball of dough into an oiled bowl, cover loosely with wax paper or "Bee's Wrap". Let rise in a warm spot until it doubles (about 1/2- 1 hour). When risen "punch" the dough down to former size. Shape the dough now or place in fridge until the next day.
SHAPING
1. Remove dough to a clean surface. Divide it into two pieces. Form (or roll out) one or both pieces into a flat disk. (For bagels divide one of the pieces into 12 to 15 even smaller pieces.)
2. Stretch each piece into a thin disk/or rectangle to fit your pan (generously oiled with olive oil).
3. With fingers form even indentations all over the focaccia. Press in the tomato halves evenly over the dough. Sprinkle generously with olive oil, a sprinkling of salt and herbs and pieces of mozzarella cheese if desired.
4. Cover pans loosely with parchment paper and let rise again in a draft free warm spot for about an 1/2 – 1 hour. (Don't over rise).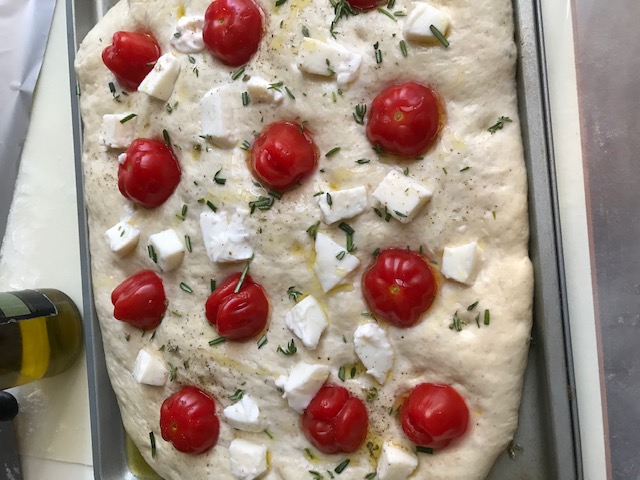 Focaccia with mozzarella
5. Bake pans in a preheated 200deg C (400deg F) oven for about 20 minutes. Place one pan on the middle rack and the other on the lower rack. Important After 20 minutes into the baking switch position of the pans and continue for another 10 minutes or until golden (on top and bottom). Cool slightly on a cooling rack. Serve warm or barely hot.
FOR BAGELS Cut one of the halves of dough into 12-15 even pieces. Roll each piece into a ball and press a hole into the middle to form bagel shape. Let rise in a warm spot covered loosely for about 1/2 to 1 hr. as in the focaccia. Brush each bagel with a beaten egg and sprinkle with desired seeds (such as sesame, poppy seed or cumin). Bake on the middle rack for 15-20 minutes or until golden.

TIP A freshly boiled and riced medium potato can be added to the dough (adding it to the milk mixture in the beginning) to create a lighter dough and interesting texture. The potato should be tepid though.