INGREDIENTS (4 mushipan cupcakes)
180 g flour (part rice flour or cornstarch good)
10 g baking powder (vanilla)
80 gr sugar
pinch salt
180 gr milk
15 g light oil
10 gr unsweetened cocoa powder (or 1 tsp matcha powder)
1 T lemon juice and grated rind
PROCEDURE
1. Sift dry ingredients together (except cocoa)
2. Mix liquid ingredients and add to the dry incorporating well.
3. To half the batter add the cocoa powder mixing well. Mix matcha powder into other half.*
4. Line 4 aluminum cupcake tins with paper liners.
5. Fill each prepared cupcake tin with the batter.
6. Place the tins in a pan filled with 1 inch (2 cm) of boiling water. Cover with lid.
7. Let the cupcakes steam over low heat for 15-20 min without lifting lid (no peeking!).
8. Remove the cupcakes from their tins and cool them on a cooling rack.
9. Serve dusted with powdered sugar if desired.
*Sift cocoa and matcha powder before adding to batter.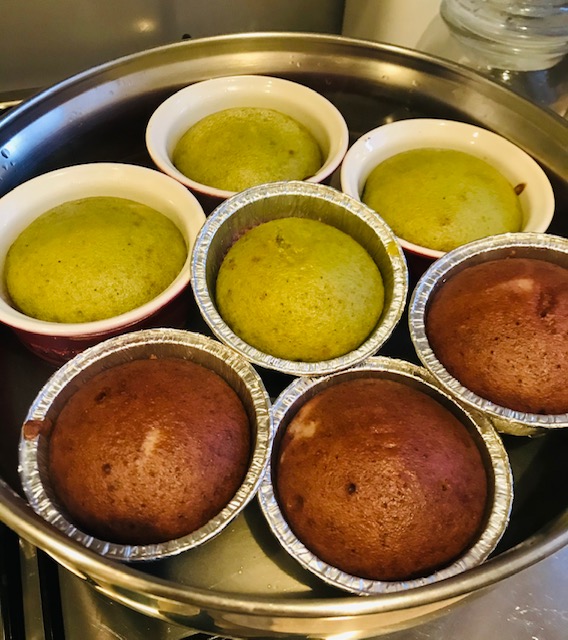 TIP: for a fluffier cupcake you can add 1 egg separated adding the white well beaten at the end. Also you can use well greased ramekins instead of the paper cupcakes if you wish (not greased – insert a paper liner). You can also add 1/4- 1/2 cup of chocolate chips to the matcha batter for another version.


Matcha chocolate chip cupcakes