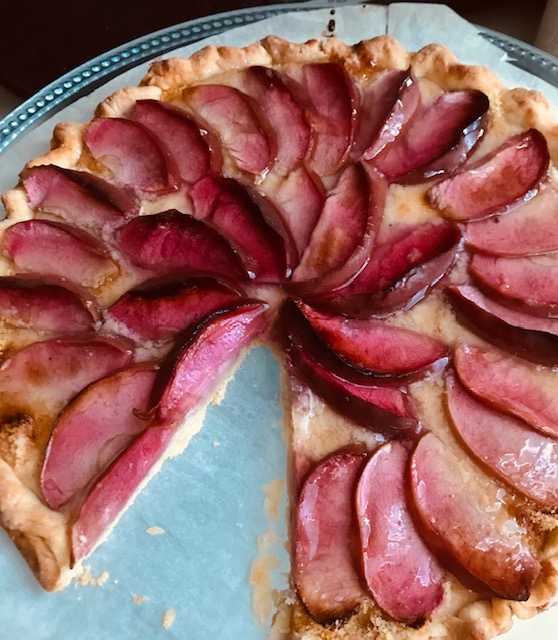 Only two basic ingredients: a tender crust and apples. Of course the red moon apples makes it extra special.
INGREDIENTS
1 recipe pastry for the bottom crust made with: 1 1/4 cup all purpose flour,1/4 cup almond flour, 1 tsp. sugar, 1/4 tsp. salt, 1/3 cup cold butter (part solid coconut oil good), 1/3 cup very cold water mixed with a little white wine.
Otherwise use a ready roll pastry or a pastry recipe of your choice. (see method in one of my pie recipes on this blog). Crimp the edges.
Filling
3 medium organic Red Moon Apples cored but unpeeled and thinly sliced and sprinkled with lemon juice.
2 tbsp. melted butter
2-3 tbsp. sugar (or honey)
optional 1/4 cup almond flour*, glaze (I used an envelope of Tortagel)
*If you wish you can sprinkle some almond flour on the crust before you add the apples.
Red Moon Apples
PROCEDURE
1. Place the sliced apples starting from the edge of the pastry crust overlapping in concentric circles covering the whole crust.
2. Brush the whole top with the melted butter. Sprinkle with the sugar.
3. Bake the tart in a 180deg C (375deg F) oven for 30-35 minutes.
4. Cool slightly and serve or glaze if desired for a shiny appearance.**
**I used a packet of "Tortagel"

This is where I got my inspiration on top of Mt. Tendre in Switzerland. This very simple apple tart, only apples on a crust, inspired me to replicate with my own Swiss Red Moon Apple Tart. Of course any type of good crisp apple can be used here although Swiss apples are especially delicious!