INGREDIENTS (10-12 medium popovers)
1 cup milk
1 tbsp. melted butter or oil
2/3 cup whole wheat flour
1/3 cup all-purpose flour
1/4 tsp. salt
2 large eggs
PROCEDURE
1. Preheat oven to 400deg F (200deg C) with only bottom heat.
2. Heat up muffin tins in the oven and butter them well, then flour them (even non-stick).
3. Beat all ingredients (at room temperature) except eggs.
4. Then beat in eggs one at a time. Batter should be of whipping cream consistency.
5. Fill the prepared popover or cupcake tins 3/4 full.
6. Bake on the bottom third of the oven at 400deg F (200deg C) for 15 minutes.
7. Then lower the temperature to 350deg F (170deg C) for an additional 20-25 minutes.
8. When popovers are golden wait a minute, then remove from tins. serve hot or warm preferably.
TIP: You can insert the tip of a sharp knife into each popover to release steam.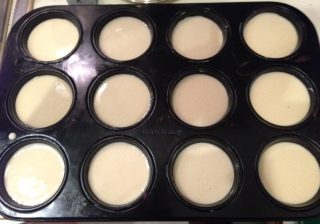 Muffin tins filled with the batter – ready for the oven.

Serving Suggestion. Popovers can be filled with practically anything.