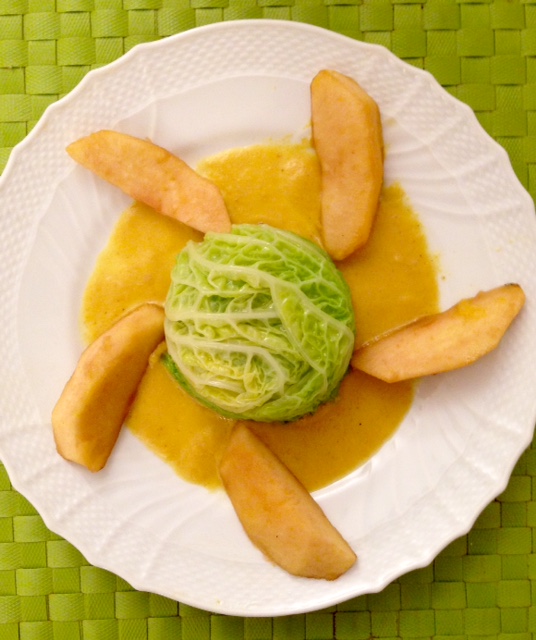 INGREDIENTS (for 4 portions)
200 gr. (about 1 cup uncooked) instant wholewheat couscous
2 tbsp. raisins
4 large savoy cabbage leaves
400 gr. (about 2 cups) vegetable broth
fresh dill (a couple of small fronds finely chopped)
2 tbsp. olive oil
2 medium golden delicious apples, peeled, cored and cut into thick slices
1 tbsp. sugar
1 small sweet onion, finely sliced
1/2-1 tsp. curry powder
salt as needed
PROCEDURE
1. Prepare the couscous according to package directions using vegetable broth for liquid.
2. Mix in 1 tbsp. oil, raisins and chopped dill. Cover and set aside.
3. Boil the cabbage leaves individually in gently boiling water for two minutes.
4. Drain the leaves carefully and set them aside on a clean dishtowel.
5. Saute' the sliced onion in 2 tbsp water until tender. Add the remaining olive oil and curry.
6. Puree' the onion mixture in a blender until smooth. Season with a bit of salt. Set aside.
7. Boil the apple slices in 1/4 cup of water in which the 1 tbsp. of sugar is dissolved, for 2 minutes.
8. Drain the apples and roast them in a non stick pan in 1 tbsp. oil for a minute. Cover and set aside.
9. Cut away the central rib of each cabbage leaf.
ASSEMBLAGE
1. Line 4 slightly oiled ramekins with each cabbage leaf leaving a little overlap around edge.
2. Fill with the couscous mixture. Fold overlap towards center.
3. Place 1/4 of onion-curry sauce on each plate. Carefully turn over the filled ramekin over the sauce.
4. Surround stuffed cabbage with the sliced apples. Serve. (good served tepid)

The underside of the stuffed cabbage revealing the couscous filling