INGREDIENTS
250 gr (1/4 lb.) cleaned, trimmed, sliced open fresh sardines
4-5 medium peeled and very thinly sliced potatoes
200 gr (about 1 1/2 cups) cherry tomatoes cut in half
a bit of fresh thyme or other herb of your choice (such as oregano)
extra virgin olive oil
salt, pepper
optional: dried tomatoes in oil
PROCEDURE
1. Dry the sliced potatoes with a clean dish towel or paper towels.
2. Cover a large oven proof platter or baking pan with generously oiled parchment paper.
3. Cover pan with the sliced potatoes in an even layer. Spritz with olive oil. Salt and pepper.
4. Bake the potatoes in a preheated 180deg C (370deg F) oven for 25 minutes.
5. Place a bit of thyme and a little salt in each sardine. Close them up.
6. Arrange the prepared sardines evenly over the baked potatoes.
7. Scatter the prepared tomatoes evenly in the spaces between the sardines.
8. Add chopped dried tomatoes, herbs and spritz olive oil over.
9. Return pan to oven and bake an additional 12-15 minutes. Remove and serve hot!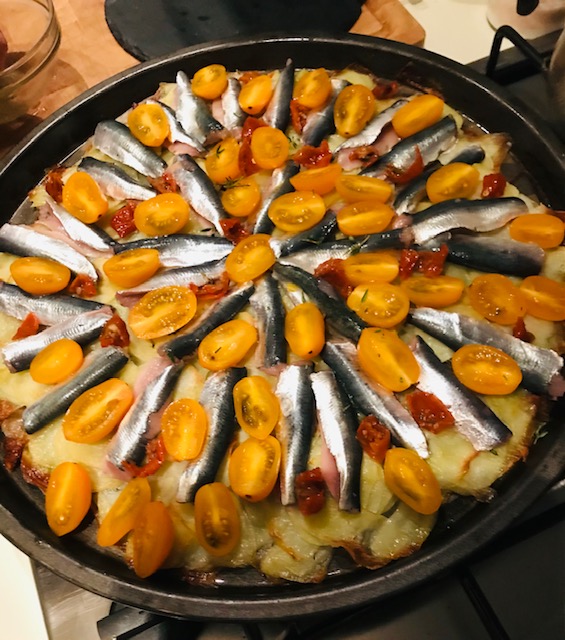 Great with yellow tomatoes too!