INGREDIENTS
For the water roux:*
25 gr. (1/4 cup plus 1 tbsp.) all purpose flour
125 gr.(2/3 cup) water
* 1:5 flour to water ratio
Basic dough:
360 gr. (3 cups) all purpose flour
120 gr. (2/3 cup) whole milk
70 gr. (1/3 cup + 1 tbsp.) soft butter
2- 1/2 tsp. granular yeast
1 egg slightly beaten
60 gr. (1/3 cup minus 1 tbsp.) coconut sugar (or other sugar)
1 tsp. salt
extra flour for kneading
Fillings: Chocolate chips, chopped pecans or nuts, powdered cinnamon
PROCEDURE
1. Prepare the water roux by boiling the water together with the flour. (about 5 min)
2. When the mixture thickens and forms a gel (65degC) set aside to cool.
3. Whisk together the dry dough ingredients in the mixer.
4. Add the water roux mixture and milk while mixing with the dough hook.
5. Gradually incorporate the egg and butter, bit by bit. Continue mixing.
6. When dough comes together in an elastic mass (will be sticky), remove from mixer.
7. Continue working the dough quickly by hand on a floured surface using the following motion:  Quickly fold both sides of dough under and slap it onto the floured surface quickly  and then picking it up while rotating  it half a turn. Keep continuing  the folding and slapping .process until the dough becomes elastic (still quite sticky though). When you pick up an edge it should form a translucent sheet.  The trick is to touch the dough as little as possible. Try not to add too much flour.  The dough should always be soft.
8. Now gather into a smooth ball and place it into a floured bowl. Cover with a towel.
9. Let the dough rise until double. About 2 hrs.
NOTE: For easier shaping (and lack of time) you could place the dough into the fridge after #8 and let it rise there overnight. The next morning you can do the shaping and 2nd rising and then proceed to baking.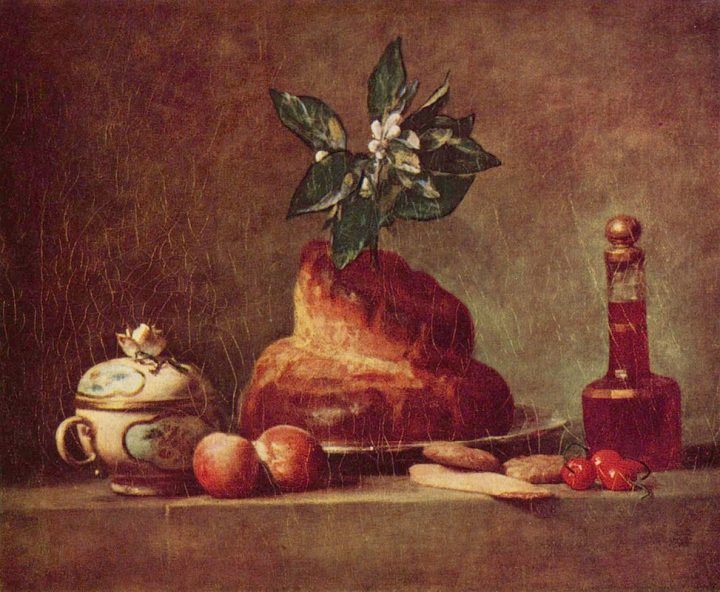 Still life with "Brioche" (by Jean- Baptiste- Simeon Chardin, 1763
SHAPING
1. Now punch down the dough and divide it into 12 even pieces.
2. Form a short rope with each piece about a 12″ long. Roll each rope flat.
3. Fill each rope with desired filling: chocolate chips, chopped nuts with cinnamon.
4. Pinch the edges together lengthwise to form a cylinder.
5. Roll cylinder into a snail shape if desired.
6. For a knot shape wind the cylinder around your fingers twice and then fold the ends into the center as shown in the picture below. Plain buns are another option.


chocolate chip filled dough


dough pinched together to form a rope


wind dough around fingers twice to form knot shape
7. Place all the finished shapes on a wax paper lined baking pan and let rise (covered with another sheet of wax paper) again about 1/2 to one hour. They don't need to be doubled.
8. When risen brush with a little milk and bake them in a 170deg C (370deg F) oven for about 25 minutes. Cool them on a cooling rack. Store them in a covered container or plastic bag. They should stay fresh for at least 3 days. They also can be frozen easily.
TIP
I used this recipe to make a delicious "Colomba" (in English – dove), a traditional Easter sweet bread in Italy. I substituted about a 1/4 of the flour with wholewheat flour and added the grated rind of an organic orange. If you wish you can add raisins too. The paper dove shaped cases come in handy, but if you can't find them any shape will do. The crunchy glaze topped by almonds is made with one beaten egg white, 1/4 cup of powdered sugar, 2 tbsp. almond flour and a tsp. of cornstarch spread carefully over the risen dough before baking. (about 35 minutes for two "doves" or 45-50 min. for one large one)